The 3D dynamic procurement strategy model
I recently came across the "bi-modal capability" concept by Gartner that assumes the co-existence of two approaches to creating and delivering business change.
Mode one being the traditional factory-like (waterfall) approach to regular tasks based on accuracy, reliability, and stability; and mode two being agility and speed-based approach to innovation tasks.
In the IT industry, such concepts differentiate fairly standard backend systems (infrastructure, legacy services, etc) from configurable and highly dynamic frontend ones (apps, UX, data and content).
Furthermore, to support the bimodal IT organisation, Gartner suggested the adaptive sourcing model, in which IT services are layered into three environments: innovate (fast/agile concept testing), differentiate (business process optimisation and transformation), and run (production). Each environment involves different stakeholders, sourcing options, and suppliers.
I assume this model works perfectly for indirect procurement. We are running diverse categories, some of which are standard and routine ones and measured by materials availability and cost reduction. Others relate to highly demanding customer-facing clients (eg, marketing), where you need to constantly differentiate and fast-track to respond to market trends. Finally, in the constantly increasing race for innovation, our companies engage in ideation campaigns, challenges, incubators, where legacy sourcing practices don't work. Generally speaking, many of us already work in the de-facto "adaptive sourcing" environment.
To work on this a bit further, I propose the following 3D dynamic strategy model.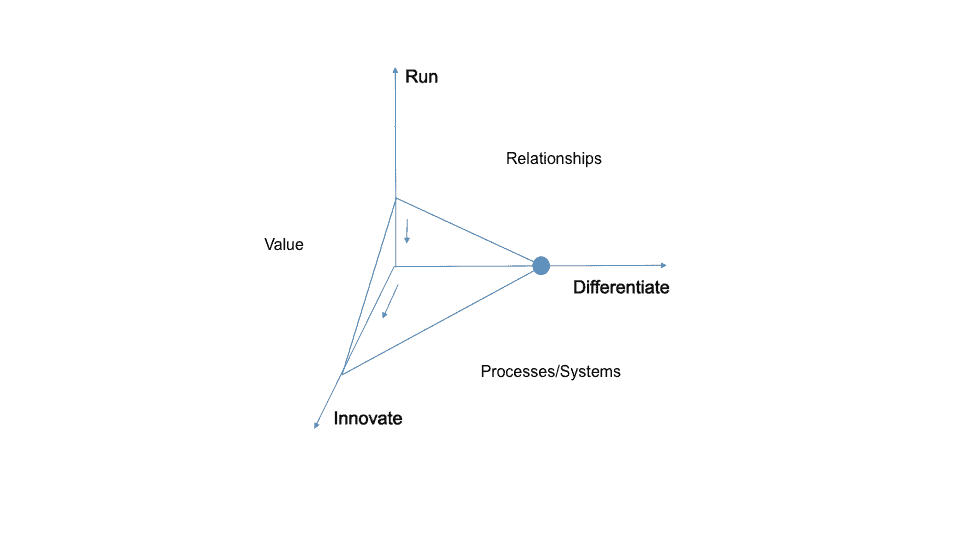 I assumed that three axes "Innovate", "Differentiate", and "Run" form three planes, where we can place three critical procurement deliverables – Value, Relationships, and Processes/Systems.
Usually, the value is achieved through improvement of existing practices (Run) and development of unconventional ones (Innovate.) Processes and systems require differentiation (eg, for different user groups) and innovation for the further development. Relationships need to be maintained (Run) and could be differentiated (eg supplier segmentation).
So, we formed this simple model and can use it to visualise our strategy. Let's assume that triangle has a constant area, so you cannot simply enlarge it, and each upward move of any of its points results in different moves of other points (including downward ones).
It is suggested to fix at least one point of the triangle, as having all three moving points would increase the dynamism to an uncontrolled state, where each move creates sudden changes across the model.
Currently, it is hard to imagine innovation freezing, and the constant search for new efficiencies and values makes it hard to stop the operational improvement (Run.) Therefore, most likely you would stabilise the state of differentiation. Otherwise, further relationship improvement would occur at the cost of customisation of processes and systems.
So, we can fix the point on the Innovate axis and view the changes on two other axes. For example, if we're to increase the innovation, then the triangle starts moving downwards on the Run axis and the value element related to operations (Run) could deteriorate, while the innovation value increases. Relationships with critical suppliers could also suffer, as you'd start putting more efforts into developing their startup rivals. Conversely, too much emphasis on improving existing operations would result in upward motion on the Run axis and a degradation in innovation.
Alternatively, you could fix another point of the triangle and see how the other two are moving along with your strategic theme (eg, stabilised operations and increasing differentiation to please your customer-facing stakeholders).
I would propose this model as the possible visualisation of your procurement strategy.
Source: https://www.cips.org/en/supply-management/opinion/2019/july/the-3d-dynamic-procurement-strategy-model/